Mark Hovland
Mark is the Founder and Director of New Hope Counseling Center since 2012. He is a graduate of Colorado Christian University and holds a Master of Arts Degree in Counseling. His undergraduate degree is from Western Illinois University with a BS in Finance. He specializes in Eye Movement Desensitization and Reprocessing (EMDR), a treatment particularly effective for trauma related issues. He continues his board requirements for ongoing education, as well is an avid reader related to the field.
Mark's clinical experience includes an internship as a therapist in a community mental health setting at Aspen Pointe in Colorado Springs, Colorado. He also has over five years experience at Cedar Springs Psychiatric Hospital in Colorado Springs, the last two and a half years as a therapist. Mark finished his time at Cedar Springs as a lead therapist overseeing several other therapists.
Mark's counseling experience also includes over thirteen years in pastoral counseling, nine of which were on the staff of New Hope Oahu in Honolulu, HI. While at New Hope Oahu he oversaw several Christian based 12-step and recovery ministries. Mark also developed LifeChange, a seminar designed to help people find healing in their life, which thousands have attended. Mark is a licensed Marriage & Family Therapist (LMFT) in both Hawaii and Colorado. He has been a Clinical Fellow of AAMFT (American Association of Marriage and Family Therapy) and a member of the AACC (American Association of Christian Counselors). Mark is also served as an Adjunct Professor at Pacific Rim Christian University teaching in the area of pastoral care and counseling.
Mark moved to Oahu in 1988. He has been married for 28 years to his wife, Connie. He has one son, Nathan, and a chocolate lab named Denver. He attends C4 Church. He enjoys spending time with his family, friends, walking, hiking, going to the beach, reading, and volunteering at his church.

Meg Wolter
Meg Paty Wolter is a Licensed Mental Health Counselor (LMHC) in the state of Hawaii. She holds a Masters degree in Counseling from Colorado Christian University and a BS in Occupational Therapy from Colorado State University. She is trained in EMDR (Eye Movement Desensitization and Reprocessing) and is currently receiving advanced training in Emotion Focused Therapy for couples. She is also certified in Sensory Integration and trained in Neuro-Developmental Treatment and SOS Feeding Therapy.
In her client-counselor relationships, Meg seeks to create an atmosphere of trust and emotional safety as her clients courageously explore their stories. She has experience with addressing grief and loss, divorce recovery, eating disorders, depression, parenting, marriages, anxiety, sexual abuse, life transitions and post traumatic stress disorder. She counsels individuals and couples.
During her thirty plus years as a pediatric Occupational Therapist, Meg worked in the Neonatal Intensive Care Unit with premature infants and in an outpatient rehabilitation clinic with special needs children and their families. Upon completion of her counseling degree, she established a successful practice as a Licensed Professional Counselor (LPC) in the pediatric rehab clinic. She provided mental health services to the caregivers and siblings of children receiving rehab services, working heavily with marriages and women. Subsequently, she moved her practice to downtown Colorado Springs, Colorado where she provided marriage, family, and individual counseling. Meg continues to be licensed as an LPC in the state of Colorado.
Prior to earning her masters degree, Meg was a lay counselor for many years within the church setting. She is deeply invested in the spiritual growth of women through teaching Bible studies, speaking at women's retreats and leading women's ministries. Along with her husband, she led individual and marriage weekend retreats that empowered participants to discover and live out God's purpose for their lives.
Meg is a Waialua girl, born and raised on the North Shore of Oahu. She was married for 32 years before her husband's death in 2008. She has two grown and married children and three vivacious grandchildren. She enjoys the ocean, hiking, laughing, reading, journaling, traveling and deepening her walk with God.


Robert Okimura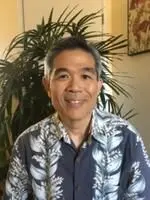 Rob Okimura is a licensed Marriage and Family Therapist in Hawaii. He acquired a Master of Science in Counseling Psychology with a concentration in Marriage and Family Therapy from Chaminade University in Honolulu. He is also an ordained minister with the International Church of the Foursquare Gospel and has a Master of Divinity degree from Fuller Seminary in Pasadena, California.
Rob offers counseling for individuals, couples and families with a philosophy to serve every client with unconditional honor. He is trained in Eye Movement Desensitization Reprocessing (EMDR), a treatment for healing trauma-related issues. He assists people who are experiencing difficulties with relationships, parenting, life direction and transitions, detrimental behaviors, addictions, anger, anxiety, depression, grief, self-esteem and shame. His special interest is in working with couples to heal and strengthen their marriage.
Rob's clinical experience includes counseling men on parole, probation, transitioning from homelessness, and recovery from alcohol and substance dependence. Besides providing pastoral counseling for individuals and couples as a pastor for over 25 years, Rob has imparted spiritual and emotional care for the terminally ill and their families. He has also taught marriage and parenting workshops, small groups and prayer ministry for spiritual and emotional healing.
Rob has been married to Michele for over 38 years and they have two young adult children. His undergraduate degree is a Bachelor of Science in Horticulture Technology from the University of Hawaii, and he has occupational experience that includes owning a landscaping business. Rob has been an avid UH sports fan for years and also enjoys gardening and fishing.

Kent Kitagawa
Kent Kitagawa is a Licensed Mental Health Counselor(LMHC) in the state of Hawaii, with a Master of Arts degree in Licensed Professional Counseling (LPC) from Liberty University, which is located in Lynchburg, VA. In addition, Kent is a licensed minister with the International Church of the Foursquare Gospel and has over twenty-five years of lay and pastoral counseling, assisting couples, families and individuals to heal from grief, relationship conflicts, addictions and debilitating anxiety. Kent also is certified in the use of Eye Movement Desensitization and Reprocessing (EMDR) therapy, widely recognized as a prominent treatment for traumatic memories that cripple individuals from living productive lives and building satisfying relationships .
Kent and his wife of over 40 years share a passion to minister to couples and families; they are both certified to use the Prepare and Enrich Relationship tool as well as the Saving Your Marriage Before It Starts (SYMBIS) pre-marital assessment. They are co-founders and served as the executive couple of the Aloha United Marriage Encounter community from 2001 - 2021, a program designed to strengthen and enhance marriage relationships." We handed over the reins to another couple in January of last year.